Some friends from Denmark told us about this amazing train ride shown many years ago on Norwegian television station NRK. NRK broadcast a train ride... the entire seven hour, 15 minute trip from Bergen to Oslo. And over 1.2 million Norwegians watched.
Is it the longest documentary ever? We don't know. But we like it! It's become a holiday favorite at SCCtv. So, to celebrate the holidays once again, beginning at Noon on Thanksgiving Day, November 28, we are going to show the entire seven hour and 15 minute train trip as a special SCCtv Presents! It's almost hypnotic. If you've ever riden on a train, you feel that same peaceful feeling watching in on a screen.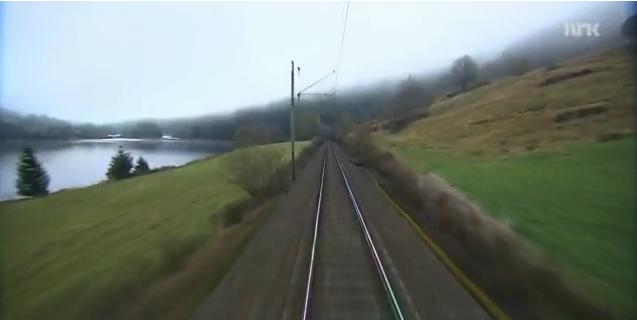 On this trip you first travel through the busy city of Bergen. After traveling through the city's suburbs, the beautiful countryside presents itself in all its splendor. The trip will take you through the snowy mountains before dropping back down toward sea level and the capital city of Oslo.
Our favorite part may be the tunnels. We hope you'll just sit back and enjoy.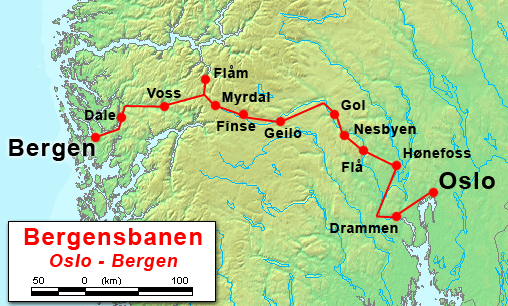 Want to follow your trip? This map shows our route of travel. According to Wikipedia, "the Bergen Line (Norwegian: Bergensbanen), also called the Bergen Railway, is a 371kilometres (231 mi) standard gauge railway line between Bergen and Hnefoss, Norway.The name is often applied for the entire route from Bergen via Drammen to Oslo, where the passenger trains go, a distance of 496kilometres (308 mi). It is the highest mainline railway line in Northern Europe, crossing the Hardangervidda plateau at 1,237metres (4,058 ft) above sea level."
Want to know more about the trip? Here are some resources for you:
If you'd like more information on the video itself, or if you would like to download the video, check here.
If you'd like more information about train travel in Norway or are planning a trip to Norway, click here for the official "Visit Norway" website.
Interested in some interesting facts about Norway? Check out this website.
Many thanks to the folks at NRK for making this amazing program available that first broadcast in Norway on November 27th, 2009. Happy tenth anniversary to the program, it is our 9th year of broadcasting the program.
FOLLOWING THE TRAIN RIDE... at 8:30pm (or thereabouts!)
Watch Orchestra Seattle and the Seattle Chamber Singers perform Handel's Messiah. SCCtv recorded for your viewing pleasure Orchestra Seattle/Seattle Chamber Singers' 2007-2008 season, Centuries of Great Music. Please enjoy this performance of Handel's Messiah.
Happy Thanksgiving to you, your family and friends from all of us at SCCtv!