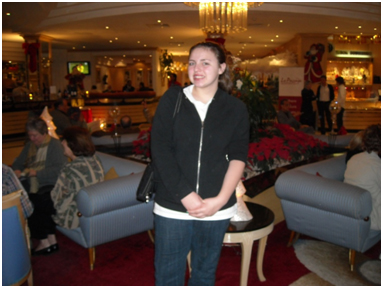 Watch on SCCtv every Saturday evening at 7pm through the end of November.
A trip to California to visit to grandmas house was the biggest trip Lynnwood 14-yr old, Jessica Gamba had ever taken. But Jessicas world got much bigger when she made her first foreign trip Ǫ 15-days touring Egypt in 2009.
Jessica takes viewers up the Nile River with stops to three famous ancient ruins, Horus Temple, Kom Ombo Temple, and Phillae Temple. At Aswan, Jessica visits Abu Simble Temple, the temple that was saved from the waters of Lake Nasser that was backing up the Nile River behind the huge Aswan Dam the Russians built in the 1960s.
Abu Simbel was originally carved from a huge granite mountain the overlooked the Nile. When Nasser Lake threatened to cover up the temple, twenty five thousand workers with stone cutting saws, sliced this huge mountain temple into thousands of granite blocks. Over the next three years they moved the blocks up the hill 250-feet from its original site Ǫand re-assembled Abu Simbel temple. As Jessica said, ǣNow thats awesome.
Jessica also visits the Valley of the Kings and Queens and the ǣmother of all temples, Karnak, the largest man-made temple complex in the world.
But the most memorable part of her tour of Egypt is the ride in a hot air balloon. At 5:00 in the morning, her balloon lifted off from a field outside of he city of Luxor and drifted for 1-hour over the famous city and the Nile River.
Share Jessicas journey of Egypt on SCCtv Presents in a movie she created with her grandfather and former SCCtv photographer, Phil Sturholm.
It was Ǫ and is Ǫ a trip of a lifetime.
Jessica Does Egypt airs at on Comcast Channel 28/Broadstripe Channel 19 at 7pm, every Saturday evening through the end of October. And remember, the program's simulcast stream can be viewed at www.scctv.net.
By the way, did you know Phil Sturholm is a legend? An icon? After amazing careers a both KING and KIRO, he worked for about a decade at SCCtv, and still occassionally does a project here and there with us. Here is an excerpt from his bio on IMBd:
"Phil Sturholm is a 35-year veteran of television production, winning 32 regional Emmy Awards, a Peabody, and a DuPont Award for his news photography and filmmaking. He graduated from Oregon State University and began a career in television news that took him to KING-TV and KIRO-TV in Seattle, and PM Magazine. He teaches broadcast writing and production at Seattle Community Colleges and Seattle University. He has been inducted into the Hall of Fame of the Seattle chapter of the National Academy of Television Arts and Sciences."
Just add banjo music!