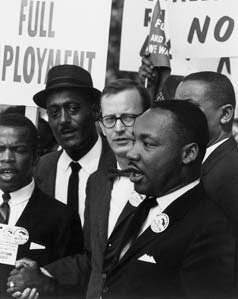 Offering both music and reflection, the Seattle Community Colleges held its 37th Annual Community Celebration of Dr. Martin Luther King on Friday, January 14, 2011.
Hosted at Seattle's Mount Zion Baptist Church, the program featured a dramatic retelling of the early civil rights movement in the United States by actor Marcel Davis in Living Voices theater group's production of "The Right to Dream." Davis played the role of a participant in the movement, bringing its significance to life by interacting with documentary news footage from the 1950s and 1960s.
The event was hosted by KING 5 News anchor Lori Matsukawa and featured music led by members of the Black Nativity Choir.
View the program on-demand below.