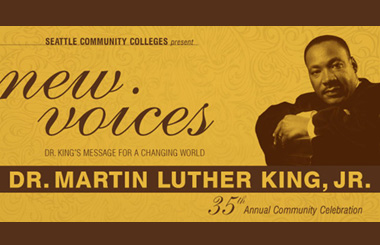 The event was emceed by KOMO-TV News anchor and reporter, Connie Thompson, with keynote address from Mount Zion Baptist Church Senior Pastor Rev. Aaron Williams.
The event will air several times on on SCCtv, Comcast Channel 28/ Millennium Channel 19:
-On Martin Luther King Jr. Day, Monday, January 19 at 8:00p.m.
-The celebration can be seen again on Wednesday, January 21 at 8:00p.m.,
-A third showing will take place Sunday, January 25 at 7:00a.m.
There will be future airings in January and throughout the month of February.
The event will also be available for on-demand viewing on SCCtv's website, www.scctv.net, beginning Martin Luther King? Jr. Day.