Remember, you can watch Professor Fred's Movie Marvels, Fridays at 9pm and Midnight and Saturdays at 3pm on SCCtv -
Comcast Ch 28, CenturyLink Ch 8005 (HD Ch 8505), Wave Broadband Ch 19 and to the world via live simulcast at www.scctv.net.!!
July 8 and 9
Gamera vs. Viras
(1968)
1h 15min
Action, Adventure, Family
Released March 20, 1968 (Japan)
Starring Kôjirô Hongô, Tôru Takatsuka, Carl Craig
Directed by Noriaki Yuasa, Shigeo Tanaka
Written by Niisan Takahashi
Gamera the Flying Turtle falls under the spell of evil aliens, but two children free him and he returns to fight the aliens' monster, Viras.
July 15 and 16
Moon of the Wolf
(1972)
1h 15min
Horror, Thriller
Released September 26, 1972 (United States)
Starring David Janssen, Barbara Rush, Bradford Dillman
Directed by Daniel Petrie
Written by Alvin Sapinsley, Les Whitten
After several locals are viciously murdered, a Louisiana sheriff starts to suspect he may be dealing with a werewolf.
July 22 and 23
Fire Monsters Against the Son of Hercules
(1962)
1h 22min
Action, Adventure, Fantasy
Released April 25, 1962 (Italy)
Starring Reg Lewis, Margaret Lee, Luciano Marin
Directed by Guido Malatesta
Written by Arpad DeRiso, Guido Malatesta
Wandering strongman Maxxus comes upon two warring tribes, the Sun worshipers and the Moon worshipers. He saves the leader of the Sun tribe from a sea monster, then later on when the Moon tribe attacks and kidnaps the Sun tribe's women, they call upon Maxxus for help.
July 29 and 30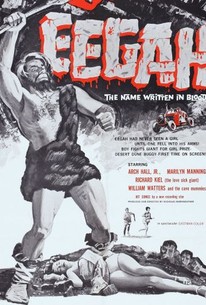 Eegah
(1962)
Adventure, Comedy, Fantasy
Released April 1, 1965 (Mexico)
Starring Arch Hall Jr., Marilyn Manning, Richard Kiel
Directed by Arch Hall Sr.
Written by Bob Wehling, Arch Hall Sr.
Teenagers stumble across a prehistoric caveman, who goes on a rampage.
August 5 and 6
Night of the Blood Beast
(1958)
Horror, Sci-Fi
Released August 1958 (United States)
Starring Michael Emmet, Angela Greene, John Baer
Directed by Bernard L. Kowalski
Written by Gene Corman, Martin Varno
An astronaut is killed on reentry to Earth, but his body is seeded with rapidly gestating aliens.
August 12 and 13
Tormented
(1960)
1h 15min
Horror, Thriller
Released September 22, 1960 (United States)
Starring Richard Carlson, Susan Gordon, Lugene Sanders
Directed by Bert I. Gordon
Written by Bert I. Gordon, George Worthing Yates
A man lets a former flame fall to her death rather than let her interfere with his new relationship, but her ghost returns to disrupt his impending nuptials.